Connect with your social network account
So if one is not enough,
I just got another one.
So...How crazy is this.

I needed a new car (As the drama goes one, First my A3 got stolen, then after a lot of shit the insurance company replaced it with a new one.
So beauty....
But as it was brand new I decided to sell it, after a while of getting ridiculous offers, I started driving it,
Took it to Melbourne... anyway while it was there, their was an accident and it got written off)
So after 12 months I finally got a car.

As I wanted a cheapish car, but something with a little style,
I got a VOLVO......
Yes a VOLVO, anyway I found it in Adelaida, So I jumped on a plane and went down and drove back.
(2.3L, 5 cylinder Turbo 176kW not too bad, beats the heck out of the A3 92kW)

The Prairie
OK 8 months ago I found another one in Victoria, Rural, about 2.5 hours from Melbourne.
The owner had it for the last 23 years, the type that looks after it by taking it to the mechanic anytime there is something wrong.
9 years ago.... He replaced the motor with a new one, because he was told a reco motor uses old parts, he got a new motor.

So I thought, Kill two birds with one stone, so I asked a mate.
So we both went to Adelaide, then drove to Clunes, Then he drove the Volvo and I drove the Prairie back. 1700km in 2 days

The Prairie drove fantastic, I even got it to 120km on the flat road, but it had trouble keeping it up hills (Dropping to 90km sometimes drats)
That's the reason I originally went turbo with the Duck



So the plans.


It has minimal rust (I'll fix it in the next mouth or so)
Give it a quick paint job to look neat
Redo the interior
As I want it as a bit of a work horse (Van)
I plan on removing the back row of seats and in the middle seating only leave the single seat (Which folds forward)
I plan on also removing the carpet at the back and replacing it with wood.
Also I have a crazy plan of making a large wooded roof rack, so I can fit full sheets of wood up there.

The motor???? I'm not sure...
Maybe a ca18 Like the Euro Prairies got
Or maybe just soup up the E15.
I already have extractors for a E15
And I have some EFI parts,
Maybe in the long run it might be nice to EFI the motor.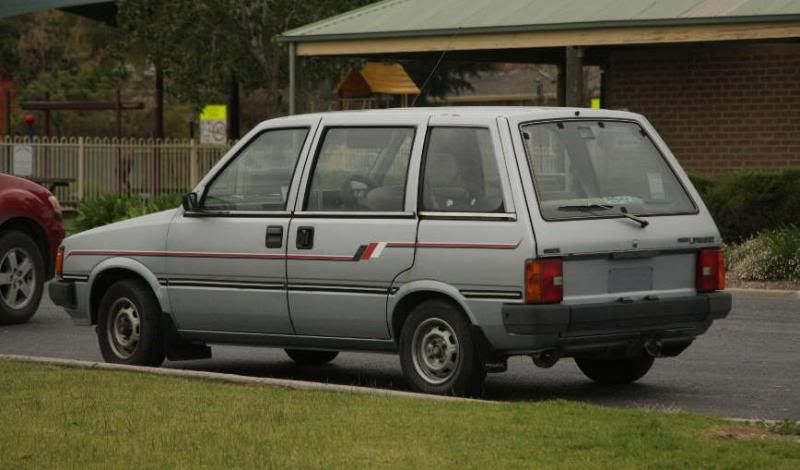 Last edited by
Valentich
on Sun Jun 16, 2013 11:59 pm, edited 4 times in total.
---
Valentich
Who is online
Users browsing this forum: No registered users and 1 guest