Connect with your social network account
Name
: Andrew
car
: 1986 nissan langley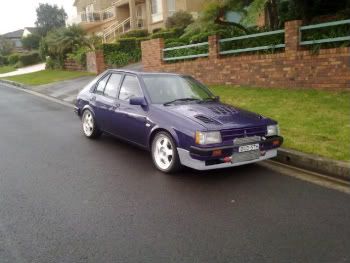 Location
: wollongong
mods
formally a stroked E17ET, engine replaced with a standard red top due stroker putting a rod through the side of the block, the now strong standard red top motor has very strong supporting mods and for a un molestered internals it is a monster of a ride, very hard to keep traction in the dry, has no torque steer due to frying the tyres once on boost and no grip, so semi slicks are a must for the machine.
*Standard Red top E15ET
*Straight cut gear box (full crash box)
*heavy duty clutch with 1 tone pressure plate
*Custom exhaust manifold
*T28 turbo garrett
*custom split 3 inch dump pipe into 2 3/4 exhaust system
*Custom inlet manifold
*custom alloy air filter box with 4inch induction pipe
*intercooler
*custom intercooler piping
*bigger fuel system and fuel lines from tank to fuel rail
*bigger fuel pump
*550cc rx7 injectors
*RR Fuel pressure regulator
*2 stage boost controller 10psi to 15psi
*improved koni suspension and springs front and rear
*heavy duty sway bars front and rear (handles like a go kart)
*slotted and cross drilled rotors front and rear
*microtech ecu
*16 inch white starcorp rims
*standard radiator with alloy over flow tank
*remote oil filter for easy access, and front mounted oil cooler
future mods
wack on my spare performance head ported and polished with 3 angle cut seats and valves and duble valve springs, head studs, and my new GT2876r turbo with a turbosmart 38mm external wastegate and a re-tune as its still tuned for the stroker which was puching just over 200kw atw, so hoping for at least 200kw with this engine.
More to list when i have the time and pics
Last edited by
JETETT
on Sat Dec 17, 2011 3:55 pm, edited 3 times in total.
---
JETETT
Who is online
Users browsing this forum: No registered users and 5 guests