Connect with your social network account
I've recently been putting a T25 into my Exa. Since the T02 it replaces was an oil cooled turbo and not a water cooled one, i needed to add water cooling lines. When I spoke to people they said " just get braided ones from Pirtek, there only a $40". So I phoned Pirtex and found that they were more like $80 to $100 EACH, so two water lines can cost as much as the T25! if you also go braided for the oil line your up for $240 - $300 for the mods to install the turbo, not including the turbo. So what are the options?
First looking at the places to take the coolant from for your turbo. People most commonly put T's into the two lines going to the heater unit. You can do this in the rubber lines or from a couple of other places.
It is important that you create and inlet and outlet in a parallel loop and don't put all the heater coolant through the turbo (in series). Otherwise the heater might no work very well. IF you extract a blanking bolt from here: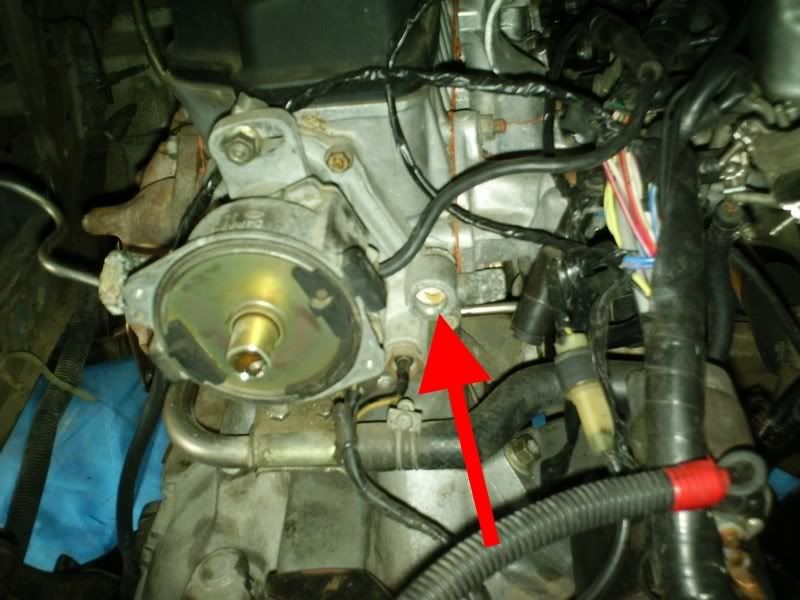 you can replace it with a barb fitting and only break into one heater line.
You could also break in at the front of the engine with this rigid line:
and make a fitting like these:
Now for the turbo end, and the first way is to ensure you get the original factory rigid lines with Banjo fittings. Get them included when you source your turbo and they'll be free!, but you will still need to carefully bend them and run heater line from the ends to the point where you break into your system to get the coolant. You'll still need some heater hose and hose clamps.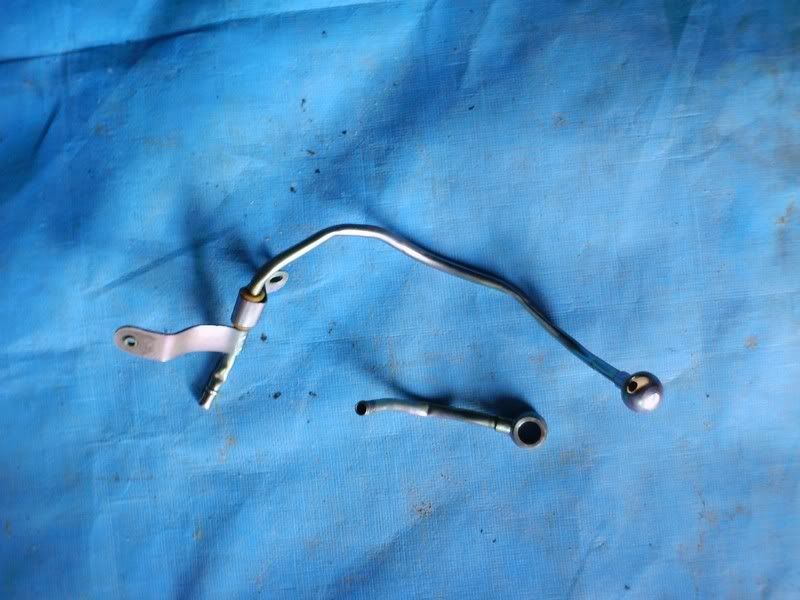 You can get things like this made up for about $30 each. In Melbourne check out H.I.S. Hydraullics in Campbellfield.
The next option is to buy a install kit from ebay,
www.thehorsepowershop.com
or similar. Depending on your ebay luck you might get a kit for $150 - $400.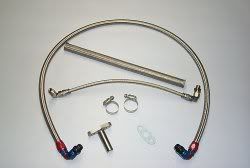 the third option is to take your turbo and manifold (or car) down to your local Pirtek or Enzed and have them make up custom lines. These becaome expensive because they'll need to put fitting on both ends and you need to know where they go (for the length) and what they connect to (for the end fitting types). Once made these can no be changed. Get it worng and it's back in to your pocket for more money. Price here are about $80 - $120 per line.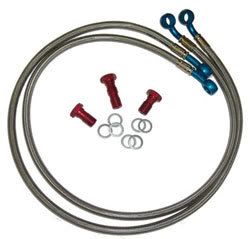 The fourth option is to use Earls (
www.earls.com.au
) or Speedflow (
www.speedflow.com.au
) fittings. These don't need to be crimped and can be assembled at home without special tools. Also if you go without braided line then you can hose clamp the other end and save on $$$ for un-needed fittings. For the two fittings with banjo bolts and adaptors, and 1.2 m of line, $73. The only issue with non braided line is exposure to high temperature near the turbo, if this really concerns you then get a protective sleave for the bit right near the turbo.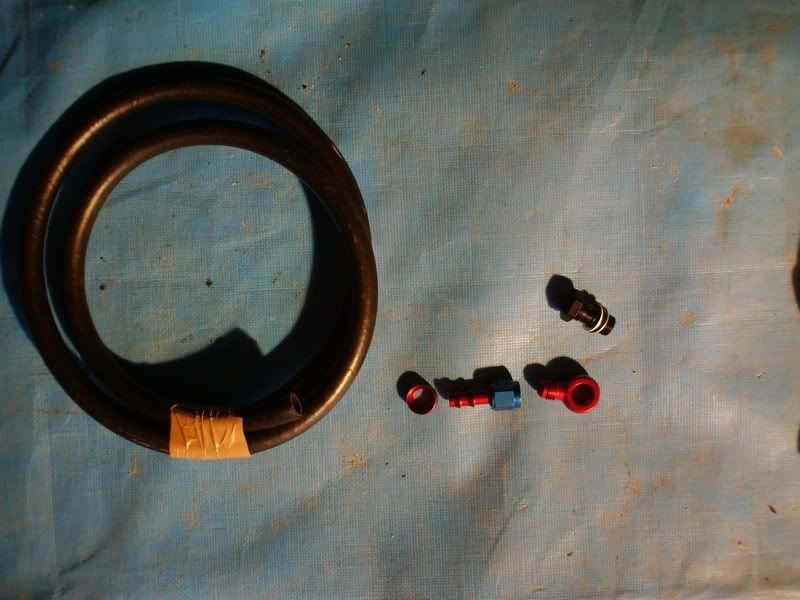 Part Numbers:
Banjo Bolt (m14 x1.5) = S725-06
Banjo Fitting = S720-06
Adapter = S401-06
Hose 3/8" 300psi= S400-06P
But you don't need to use banjo fittings, a water cooled T2 turbo i had lying arround had these fittings:
they are much hard to align properly and get a good seal. You can then run rigid lines from them.
So my recommendation is to use the original lines or Speedflow fittings.
C
Last edited by
Callumgw
on Tue Jan 29, 2008 7:22 pm, edited 1 time in total.
---
Callumgw
Here's how I did mine...
Here's what I used.
Only a couple of inches of solid line coming off the banjos to work with, so I got the ends flared, and put a couple of turns of gaffer tape around the line above the flare so it was closer to the ID of the silicone hose. The flare means the hose won't come off, thanks to the hose clamps. No problem so far with the silicone hose a few thousand k's later; it can obviously hack the temp.
You can also see the barbed fitting that replaces the bung next to the dizzy, and painted black, a bit of steel tube I had another brass barb brazed onto.
If you get any brazing like this done, and it turns out it leaks, you can fix it with electrical solder and a butane torch (I used my portable soldering iron, minus its tip).
Here's how the silicone hoses look hanging off the turbs.
This is where I had the little fitting made to go:
Doesn't fit yet, of course...
Made room with an angle grinder.
Finished with hacksaw and file.
A bit of sweat and knuckle skin later:
The other end was a piece of piss; just replace the bung with the barb and all is well. No need for teflon tape or whatever, since it's a tapered thread; just do it up pretty hard.
Done.
Total cost I can't remember... but it was only like $50 or something.
Now for the oil line...
I drove over to Enzed, and pulled out my oil line (I had to cut it, and working on a hot engine ain't much fun, but I figured it was still the easiest way), and waited about an hour for the bloke to modify and braze some fittings onto each end of the old line, so he could replace the middle bit with some stainless braided teflon hose.
Cost about $90.
---
Kimmo
Who is online
Users browsing this forum: No registered users and 1 guest